TARLIM MOVED TO OJS 3
TARLIM jurnal pendidikan agama Islam telah menggunakan OJS 3 untuk proses editorial jurnal. Karena itu, kepada para dosen, peneliti, dan akademisi yang ingin mengirimkan naskahnya dapat melakukan submisi melalui tautan ini.
Kami informasikan bahwa website ini hanya akan digunakan sebagai media archiving untuk terbitan tahun 2018 – 2022 (Vol 1 – Vol 5).
Segala bentuk operasional manajemen jurnal akan dilakukan dengan website baru
Bagi penulis yang telah submit di laman ini segera lakukan submit ulang ditautan berikut:
VOLUME 6 NOMOR 1 2023 DAN SETERUSNYA AKAN DITERBITKAN DI LAMAN WEB OJS 3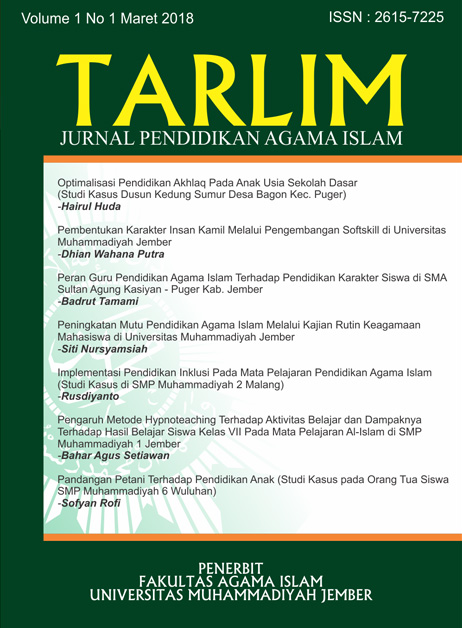 Announcements
No announcements have been published.
Vol 5, No 2 (2022): TARLIM Jurnal Pendidikan Agama Islam
Pada edisi ini, jurnal TARLIM berisi artikel dari hasil penelitian dan kajian kritis. Pada edisi ini, artikel-artikel yang diterbitkan meliputi masalah-masalah dan kajian penelitian berupa The Purpose and Functions of Evaluation of Arabic Learning in Educational, The Risk Preferences Of Graduates Of Islamic Educational Institutions In Indonesia, Pesantren In Social Construction Perspective, Efektivitas Relaksasi Dzikir untuk Meningkatkan Motivasi Belajar Siswa, Integrasi Nilai Akhlak Terhadap Program LiSA (Lihat Sampah Ambil), Pendidikan Multikultural Sebagai Suatu Pendekatan, Implications Of The Sociological Approach In Islamic Education In Indonesia, Cultural Approach to Religious Education in The Socio-Cultural Life of Students.
Table of Contents
Articles